Grilling season is upon us, and while it's usually not the occasion to overthink anything, here are a few guidelines to matching smoky, grilled foods with wine, plus some fun pairings to try out this summer. First off, the smokiness created by grilling in addition to the full-flavored sauces and rubs that are commonly used call for wines with rich, concentrated fruit, low to moderate alcohol and fairly high acidity. Next, try to stay away from oaky wines; despite some testaments that the barrel toastiness and smoke match up, they tend to actually clash and don't make for a refreshing pairing. And finally, contrast is key, so seek out bright, fruity, juicy and palate-cleansing wines to match the savory, meaty and often pungent flavors of BBQ.
Enough about the rules; what are we drinking? Let's begin with rosé! Not only does rosé make perfect sense in an outdoor summer BBQ setting, but it offers plentiful vibrant fruit notes, bright acidity, generally low to moderate alcohol and usually (hopefully) no oak! From the pale pink styles to the pretty raspberry and even the sparkling or slightly fizzy versions like Italian Lambrusco or Spanish Txakolina, rosé ticks all of the boxes to make a great match with BBQ. For still versions, try pairing alongside grilled salmon or a rack of salty/dry-rubbed ribs! For the bubbly or slightly effervescent versions, you can go extra bold with saucy/tangy ribs or chicken, grilled sausages with onions and peppers or hot dogs with all the fixings!
If you're leaning towards red, there are many options for you - just stick to the juicier, higher acidity wines such as Cabernet Franc from the Loire Valley, Austrian Zweigelt, Spanish Mencia or one of the many food-friendly Italian reds including Nerello Mascalese, Frappato, Barbera, Sangiovese, Gringolino or Schiava. A slight chill on these reds will add an extra layer of refreshment, especially when served alongside a juicy burger, herb-rubbed lamb chops or smoked brisket. If a rib-eye or hangar steak is on the menu, go for something with a little more grip like a cool climate, peppery Syrah from the Northern Rhône Valley or Sonoma Coast.
Finally, if you've got some heat in your BBQ sauce, try a fruity but not sweet white like an Austrian or "dry" Riesling or a South African Chenin Blanc. For lighter dishes such as grilled oysters, shrimp or skewered scallops, a slightly spritzy Vinho Verde or Spanish Albariño will do the job quite well!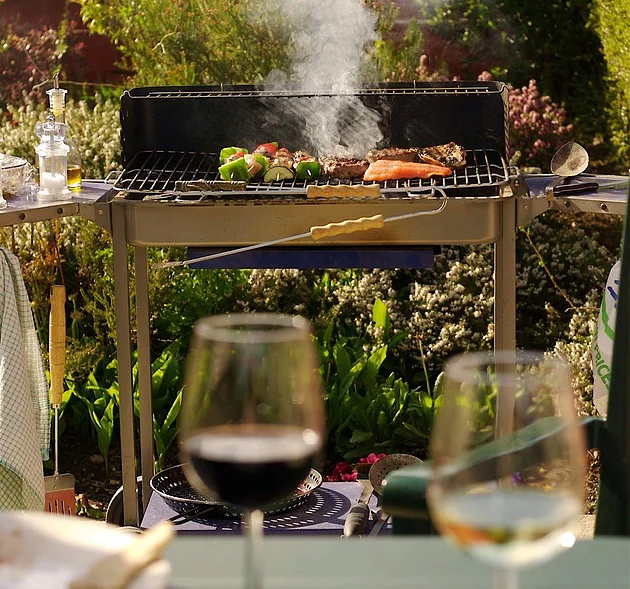 Cheers to drinking well while grilling all summer long!